BLYDE WAKE-UP CALLS
5 BURNING QUESTIONS TO

DAISY SCHOLTE, IMPACT MANAGER BETTER PLACES
The past years have laid bare many truths about our current model of capitalism — the severe income inequality and the belief that improving human lives and taking care of the environment are expendable for better profit margins. The changemakers in the growing Certified B Corporation community are demanding an end to the myth that profits must come at the expense of purpose, and environmental and social care. It's time to wake up, it's time for action. 
At Blyde we believe in questioning the status quo. We believe in the power of the collective, in taking a stand and inspiring people by showing what can and must be changed. In our Wake Up Calls, Blyde stirs up hunger for positive change. We listen to several B Corp voices who talk about their call to action for companies around the globe today. By letting people from different perspectives and businesses speak, we would like to underline the important role of business in this decade of action. 'On stage' today: changemaker Daisy Scholte, Impact Manager at Better Places.  
Better Places is a tour operator on a mission to make a positive impact on people, society and planet through traveling and tourism. What was your wake-up call for contributing to a better world?  
I have always felt a need for contributing to a better world. As a child I would lay awake worrying about the hole in the ozone layer. I would take my 'responsibility' and put 'turn off the lights' stickers on all the switches. My mum wasn't too happy about that. In my early twenties I discovered the joy of traveling and learning about other cultures. I became a travel journalist. At the same time I became increasingly aware of the damaging effects that tourism can have on a destination, its people and the environment. I didn't want to be yet another travel writer; I wanted to inspire people to travel different. Better. That's where my journey in the world of sustainable tourism started. Years later, I got the opportunity to join Better Places. In contrast to many tour operator I had worked with, Better Places is serious about their social and environmental impact. 
What is your call to action for companies around the globe? 
We need to drastically change the travel industry if we want to keep the right to exist. Some destinations are already facing the effects of climate change: unbearable temperatures, unpredictable weather and natural disasters. The natural and cultural heritage that are necessary for tourism activities will be destroyed. We should ask ourselves what the world will look like if we don't act now. Better yet, what will it look like if we do act? We need to shift our focus from short to long term. Keep innovating. Be critical of our actions. Find the courage to admit it when something doesn't work. Try again. Be ethical. Work together and share your best practices.  
Which SDG (Sustainable Development Goal) calls you most and why? 
Can I pick two? The first being SDG 1 'No Poverty'. The global inequality of opportunity is the greatest injustice of our time. I believe tourism is a great tool to fight poverty. In many countries or regions tourism is the main source of income. It creates employment in many sectors, both skilled and unskilled: from hotel and restaurant staff to the guides, drivers, suppliers of food and craftsman making your souvenirs. At Better Places it is our mission to create authentic travel experiences with the greatest possible benefit to all people involved. At the same time we work on minimising our environmental impact. This is where my second pick comes in: SDG 13 'Climate Action'. Better Places is one of the founding signatories of Tourism Declares a Climate Emergency.
By signing this pledge, we promise to decrease our CO2 emissions at least 55% by 2030 compared to a 2019 baseline. This includes the emissions caused by the flights our customers book to get to and from their destination. It's a huge challenge that I am proud to be part of. 
Call me a changemaker – your company in 2030…(biggest dreams, wishes, plans?) 
Everyday, we work on increasing our positive impact on the destinations, the people and the environment. Long before 2030 we will have created a tool to measure the impact of each uniquely designed trip we sell. With this information, we can keep improving our offer and also show our customers how they can contribute to creating a better world through traveling. At the same time we have inspired other tour operators and travel businesses to follow our example and fundamentally change the way they work. Thanks to the efforts of pioneers like Better Places, in 2030 traveling with a positive impact and minimum emissions will be the industry standard. 
If you could invite one company to join the B Corp community, what company would that be and why?  
It really shocks me to know that Better Places is the only Dutch tour operator with a B Corp certificate. There's a lot of talk about sustainability and creating impact in the industry. But when push comes to shove, it turns out that most companies rather stick to the status quo instead of facing the uncomfortable truth: climate change is real and tourism is part of the problem. It doesn't have to be, though. We have the means to create a better world, but it will hurt a bit to get there. I challenge all travel agencies, especially the big ones, to follow our example and join the B Corp community.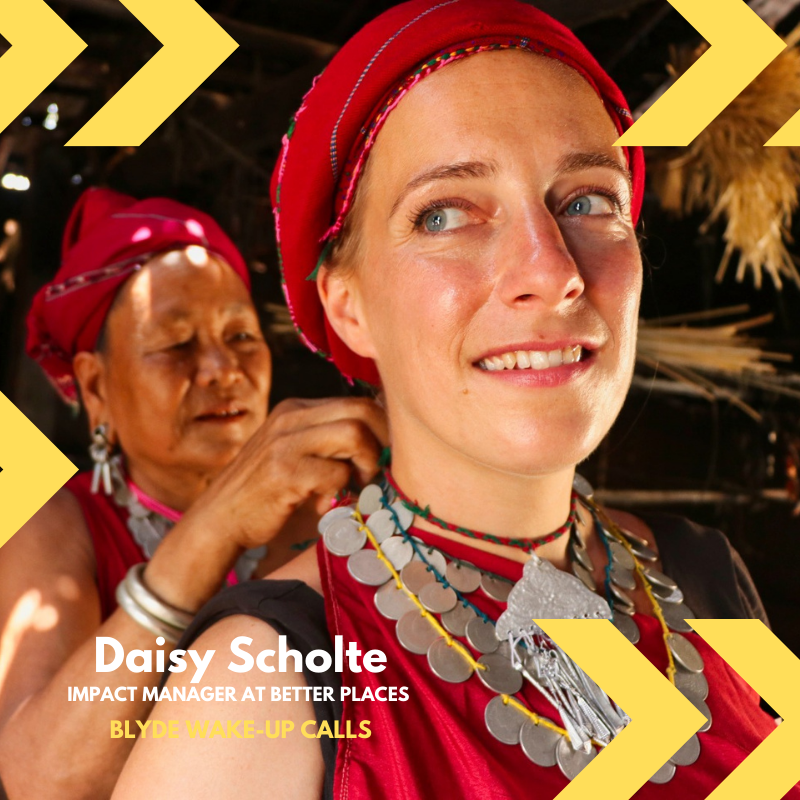 Hungry for more wake-up calls? Read the other interviews here!