BLYDE WAKE-UP CALLS
5 BURNING QUESTIONS TO ANNEMIEK NUSMEIJER, FOUNDER OF GREENJOBS
The past years have laid bare many truths about our current model of capitalism — the severe income inequality and the belief that improving human lives and taking care of the environment are expendable for better profit margins. The changemakers in the growing Certified B Corporation community are demanding an end to the myth that profits must come at the expense of purpose, and environmental and social care. It's time to wake up, it's time for action.
At Blyde we believe in questioning the status quo. We believe in the power of the collective, in taking a stand and inspiring people by showing what can and must be changed. In our Wake Up Calls, Blyde stirs up hunger for positive change. We listen to several B Corp voices who talk about their call to action for companies around the globe today. By letting people from different perspectives and businesses speak, we would like to underline the important role of business in this decade of action. 'On stage' today: changemaker Annemiek Nusmeijer, founder of Greenjobs. 
Greenjobs is on a mission to make business futureproof by helping people get a sustainable job. What was your wake-up call for contributing to a better world? 
I have always been intrinsically motivated to care for our nature and planet. It started when I was a child and became a WWF Ranger. When I grew up and studied International Relations, I learned more about how the world currently works. I understood that capitalism has had its time and does not benefit at all, and that we need a system change.
When I started my own business, I had no idea yet what the service or product would be. However, it felt like a no-brainer to me that it had to have a positive impact on the planet and that it needed to be a purpose–driven organisation. With Greenjobs and The Sustainable Recruiter, we make people more aware of the positive impact they can have with their work and inform them about all the great opportunities there are to having job with which you can actually contribute to our society and/or the planet.  
What is your call to action for companies around the globe?
Companies have a choice and voice, and they should use both more. My call to action for companies is to take responsibility: stop waiting for decisions from the government to make sustainable choices. If you own a company, you have the power to choose who you work with, who you work for, and where you buy from. Use that power to make sustainable decisions, because there are plenty of options out there. 
Another call to action for companies is to do the BIA, the Business Impact Assessment from B Corp. It shows companies how they can be more sustainable and gives guidelines on how to create a more positive impact on society and the planet. I am a proud member of the B Corp community where collective action and working together is highly encouraged, because together we can achieve more and create a system change. It's free to use, so companies: let's do this! 

Which SDG (Sustainable Development Goal) calls you most and why?  
Tough one, since all 17 SDGs are important. To stick with what Greenjobs is trying to do, which is to get more people to work for a sustainable company or have a sustainable job, I'd go for No Poverty (SDG 1), Gender Equality (SDG 5), and Decent Work and Economic Growth (SDG 8). All three have to do with work.
First of all, having a job gives people an income and will help them not to live in poverty. Secondly, I hope that employers will become more aware of the problem of gender inequality within organizations and when applying for jobs. Greenjobs gives tips and informs them on how they can avoid discrimination. Our job board also gives you the opportunity to apply to jobs anonymously. Finally, everyone deserves decent work that adds value to their life and gives them an income – preferably work that benefits planet and society, of course!
Call me a changemaker – your company in 2030… (biggest dreams, wishes, plans?) 
…would not need to exist anymore! It would be great if there was no more need for a platform for sustainable jobs, and that every job would be sustainable and create a positive impact on our planet and society. 
If you could invite one company to join the B Corp community, what company would that be and why?  
Ooh, I can't think of just one. Honestly, every company should be a B Corp. Every for-profit company that uses their profit to deepen its own pockets even further should take a look at the B Corp assessment.
If I had to mention one company, it would be Blackrock. They are one of the largest investment funds in the world, and invest nearly 10 billion dollars (yes, really, 10 billion). Imagine the impact they can make with their investments! Plus, it would be great if such a big financial player takes its responsibility and would act as an example for other financial institutions by showing them that funds can be used to benefit all instead of one.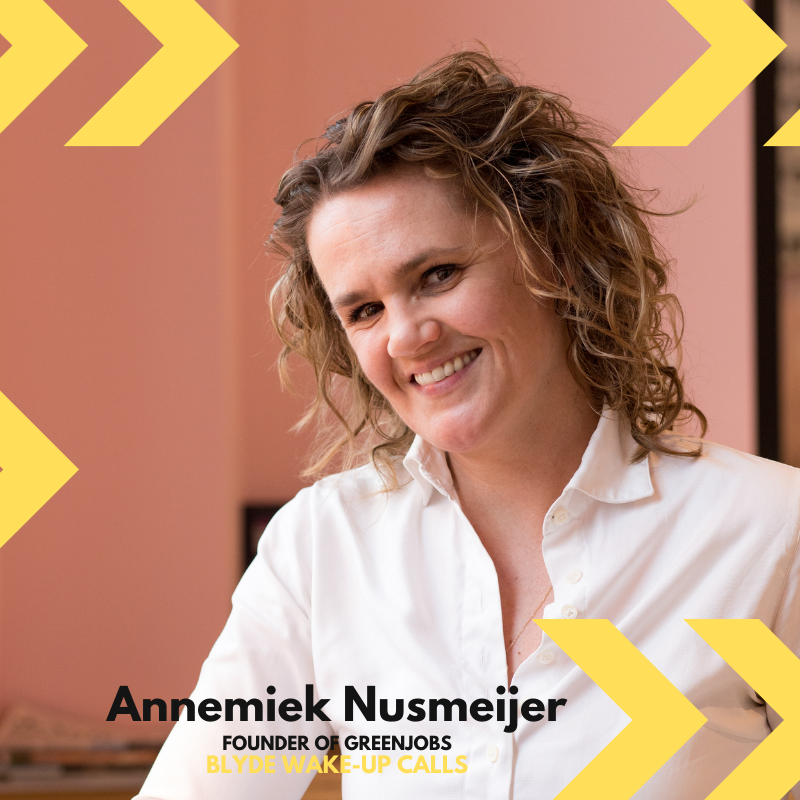 Hungry for more wake-up calls? Read the other interviews here!