BLYDE WAKE-UP CALLS
5 BURNING QUESTIONS TO CEM TANYERI – COUNTRY MANAGER BENELUX AT PATAGONIA

 
The past years have laid bare many truths about our current model of capitalism — the severe income inequality and the belief that improving human lives and taking care of the environment are expendable for better profit margins. The changemakers in the growing Certified B Corporation community are demanding an end to the myth that profits must come at the expense of purpose, and environmental and social care. It's time to wake up, it's time for action.
At Blyde we believe in questioning the status quo. We believe in the power of the collective, in taking a stand and inspiring people by showing what can and must be changed. In our weekly Wake Up Calls, Blyde stirs up hunger for positive change. We listen to several B Corp voices who talk about their call to action for companies around the globe today. By letting people from different perspectives and businesses speak, we would like to underline the important role of business in this decade of action. 'On stage' today: changemaker Cem Tanyeri – country manager Benelux at Patagonia, the purpose-driven outdoor clothing company that is in business to save our home planet.
Can you tell us more about your wake-up call for contributing to a better world? 
This might sound a bit idealistic but before I started my journey with Patagonia, I had the privilege to work at Nike. I had an amazing time there: I got to travel the world, meet many of my sporting idols and learned a lot. After almost eight years and a handful of company reorganizations, I was forced to take a deep breath and assess my situation. Was I comfortable with flying 30 times per year? How did I really feel about seeing many of my dear colleagues being the victim of yet another reorganization with the sole purpose of hitting budgets and pleasing our shareholders? Consumption had really taken over a large portion of my identity and I was simply not comfortable with this status quo. This was also around the time our daughter was born, which for me was the true wake-up call. I started imagining the world she would grow up in and all the challenges she and her potential offspring might face. The more I read about climate change and the rate at which we were consuming our planetary boundaries, the more worried I became. At the same time, it sparked determination in me to do things differently. And although I had vowed never to work for another boss again in my life, the opportunity to join Patagonia crossed my path. This was almost eight years ago. I have never looked back and have never been more in a situation where I actually felt I was using business to make a change for the better.
What is your call to action for companies around the globe?
We need a drastic overhaul of how we do business, and we need it yesterday. It's a fact that we have less than 10 years to make the necessary changes that will be decisive for the long-term health of our planet and our chance of survival on it. Companies, big or small, need to reassess what their purpose is. The rate at which we are consuming the planet is not responsible (I dislike the word sustainable). We therefore need to invest in reducing our emissions, make better and longer lasting products that can be repurposed, and pay workers who manufacture them a fair price. Running a business for the simple sake of making unlimited profit is a pathway towards extinction. Instead, I would encourage all companies to take a step back and redefine a new mission and vision, one that is based on responsible and fair manufacturing and CO2 reduction.
The Sustainable Development Goals are an important blueprint for making those necessary changes. Which of these Goals calls you the most and why?
If I had to choose, I would advocate for #13: taking urgent and drastic action to combat climate change. Our mission statement at Patagonia is: 'We are in business to save our home planet'.  We focus on becoming a net zero company by 2025 throughout our entire supply chain, but we also advocate for larger fundamental changes. Two of the most important action points are the switch to regenerative agriculture and divesting from fossil fuels into renewable sources, mainly solar and wind. Regenerative agriculture is an important one, since modern industrial agriculture has wiped out our soil's capability to sequester CO2. By going back to farming the way our ancestors did, we can save our precious topsoil, regenerate it and use the planet's natural ability to store CO2. 
For this to happen, farmers need to part ways with fertilizers and pesticides, introduce no-till farming and move from monoculture practices to mixing varieties and introducing cover crops. Phasing out fossil fuels is an obvious one, but it needs to happen at a faster rate and not by 2050 as some countries are aiming for. It's crucial that we shut down our coal powered plants and get rid of our oil and gas addiction. Solar and wind are viable options. We are currently campaigning for energy democracy in Europe through our We the Power campaign. Renewable energy should be in the hands of citizens and energy communities instead of companies such as Shell. 
Call me a changemaker, maximum change no limitations: let's fast-forward to 2030. What did you achieve?
Our mission statement is quite bold, being in business to save our home planet. I hope that by 2030, we have not only over-achieved our own goals, but have also ignited fundamental change across the apparel industry. We have a long way to go, currently less than 1% of materials within the $1.9 trillion global fashion industry are recycled and less than 1% of the cotton we use can be labelled as organically grown. I would be proud to see more large companies introduce Fair Trade certification, switch from conventionally grown cotton to Regenerative Organic Certified cotton and only use recycled plastics as raw material.
Patagonia has already been part of the B Corp community since 2012. If you could invite another company to join the B Corp community, what company would that be and why? 
It would have to be a company with impact and shareholders. I would love to see a larger apparel company be able to convince their shareholders that investing in a company can also be about what's good for the planet and not just the wallet. We need these bigger companies to get on board if we want to make a lasting impact. It might sound very utopian, but Nike could be that company for me.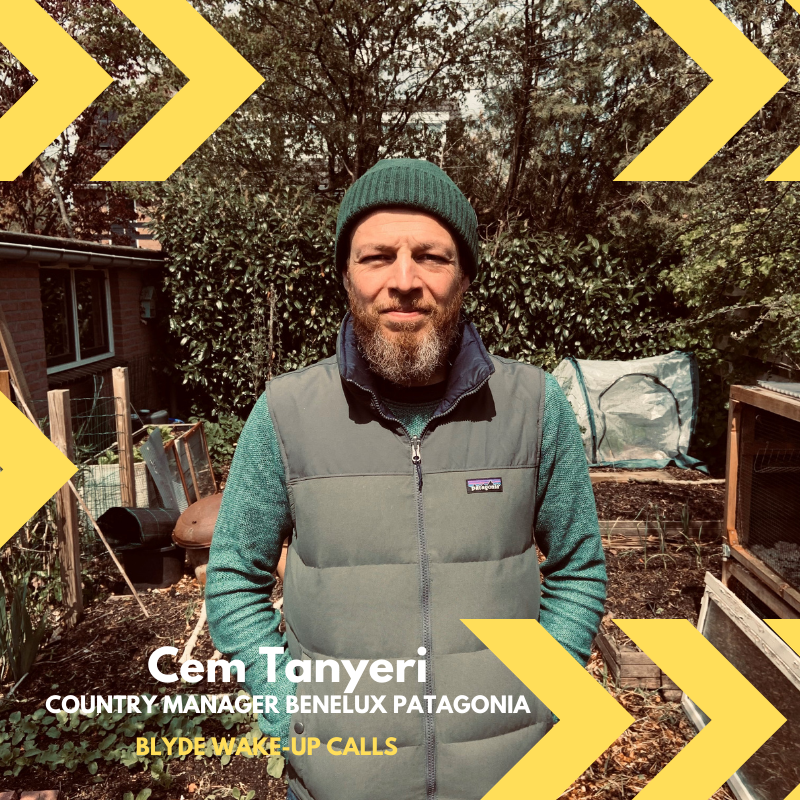 Hungry for more stories of changemakers? Read other Wake-up Calls here.
There's more to come, so stay tuned. Follow us on Instagram!