BLYDE WAKE-UP CALLS
5 BURNING QUESTIONS TO JOCHEM HES, FOUNDER NAÏF
The past years have laid bare many truths about our current model of capitalism — the severe income inequality and the belief that human lives and environmental impact are expendable for better profit margins. The changemakers in the growing Certified B Corporation community are demanding an end to the myth that profits must come at the expense of purpose, and environmental and social care. It's time to wake up, it's time for action. 
At Blyde, we question the status quo. We believe in the power of the collective, in taking a stand and inspiring people by showing what can and must be changed. In the Wake-Up Calls, Blyde stirs up hunger for positive change. We listen to several B Corp voices who talk about their call to action for companies around the globe today. By letting people from different perspectives and business speak, we would like to underline the important role of business in this decade of action. 'On stage' now: Jochem Hes,  one of the founding fathers of NAÏF.
What was your wake-up call for contributing to a better world?
Becoming a dad! I guess for all parents a life changing moment. In a positive way. The first time in life that you have real responsibilities: caring for your kid. You want to do the right things and do them in the best possible way. So, when Sjoerd (co-founder of Naïf) and I started to buy baby products, we were surprised to find out how many harmful ingredients they contained. We felt like we needed to do something about it. So we decided to develop the products that we were missing and created baby skincare with only natural ingredients, which is good for the skin and the environment.
An inspiring story and a great example for other companies, we would say. What is your call to action for companies around the globe?
If you have a new idea you want to develop.  Just do it. It's not difficult, just use your brains and be honest. There are so many people with great ideas who are afraid to voice them and more importantly execute them. Especially within bigger companies, they keep things more or less the same. Yet, consumers care more and more about sustainability and therefore change is vital.
The Sustainable Development Goals are an excellent vehicle for driving this change. Which of these goals calls you most and why? 
We have formulated our Impact Goals around product, supply chain and meaningful work. This way, Naïf contributes to 7 of the 14 Sustainable Development Goals. This means we try to make products with minimal environmental impact, we organize our supply chain with a minimal footprint and we give our employees room to craft a fulfilling career.
Envision your biggest dreams, wishes and plans for the future. What's your company's biggest accomplishment by 2025?
My hope for Naïf is to become the #1 baby brand in the Benelux, because that would mean that children will no longer be exposed to harmful ingredients in their creams. It is so unnecessary for children to get rashes from the creams that parents put on them. It would be great if we could set the tone for other brands to follow suit. And last but not least, the bigger we become, the more impact we can make.
Naïf recently became a B Corp, congratulations! Which company would you encourage to also join the B Corp community and why?
I would like to challenge all personal care brands out there to join the B Corp community. This way, we really can change this old-fashioned industry and make personal care GOOD care.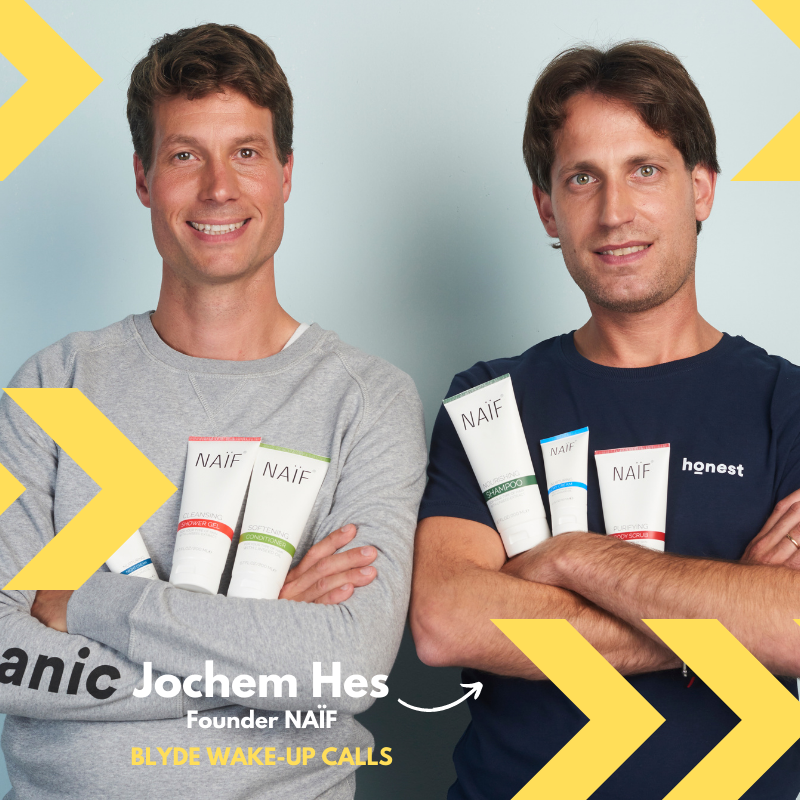 Photo: Founding fathers Jochem Hes and Sjoerd Trompetter