BLYDE WAKE-UP CALLS
5 BURNING QUESTIONS TO KIERAN GREEN, COMMUNITY AND SUSTAINABILITY COORDINATOR AT BOCCA COFFEE
The past years have laid bare many truths about our current model of capitalism — the severe income inequality and the belief that improving human lives and taking care of the environment are expendable for better profit margins. The changemakers in the growing Certified B Corporation community are demanding an end to the myth that profits must come at the expense of purpose, and environmental and social care. It's time to wake up, it's time for action.
At Blyde we believe in questioning the status quo. We believe in the power of the collective, in taking a stand and inspiring people by showing what can and must be changed. In our Wake Up Calls, Blyde stirs up hunger for positive change. We listen to several B Corp voices who talk about their call to action for companies around the globe today. By letting people from different perspectives and businesses speak, we would like to underline the important role of business in this decade of action.  'On stage' today: changemaker Kieran Green, Community and Sustainability Coordinator at Bocca Coffee.
Bocca is on a mission to make seriously good coffee that does good. What was your wake-up call for contributing to a better world? 
Responsible cooperation has been part our DNA from the moment our company started out as the first speciality coffee roaster in the Netherlands, over 20 years ago. Our journey started out in the hillsides of Ethiopia, on the pursuit for the perfect cup of coffee, a mission driven by our passion for quality.
From working directly with farmers in coffee origins, we quickly realised that a lot of improvements were required across the entire coffee-chain. The drive to build and create something different, something better, was the start of BOCCA.
What is your call to action for companies around the globe?
No more empty words or fake claims!
We pledge for all companies to support their claims with evidence-based proof. Every company is paying farmers a "fair" price and buying "directly" from the farmer. We want to see a transition towards more transparency, traceability and honesty in the coffee supply-chain, as to ensure that the consumer is well informed on their purchasing decisions. 
Which SDG (Sustainable Development Goal) calls you most and why?  
Definitely Quality Education (SDG 4). This is a core value for BOCCA.
We are on a mission to provide top quality education to our network of businesses customers and everyone involved in the production of our coffee and we believe that passing on our experience to others is central to creating a positive impact. From establishing the Suke Quto school development project for children of our farmers living in coffee communities, to training over 10.000 baristas in the BOCCA school of coffee: education is at the heart of everything we do.
Call me a changemaker – your company in 2030… (biggest dreams, wishes, plans?) 
The coffee industry is still predominantly driven by convenience and price. We believe that consumers will be willing to pay more if they know margins are divided in a fair and equal way. Our dream is to instigate this market shift, with a greater emphasis placed on quality, transparency and sustainability.
We want to be a frontrunner in terms of impact and change, inspiring other companies to harness the power of business as a force for good. At BOCCA, we continue to see more partnerships, people and companies with a similar mindset joining forces to support each other, such as the B Corp community.
If you could invite one company to join the B Corp community, what company would that be and why?  
Trabocca! Our main supplier and partner company. We know that all of their hard work in origin and direct work with farmers is deserved of recognition. Building relationships with other companies in the B Corp community is essential, and we feel it is necessary to consider everyone involved in our supply chain. We want to challenge them to challenge themselves and take the leap into B Corp territory!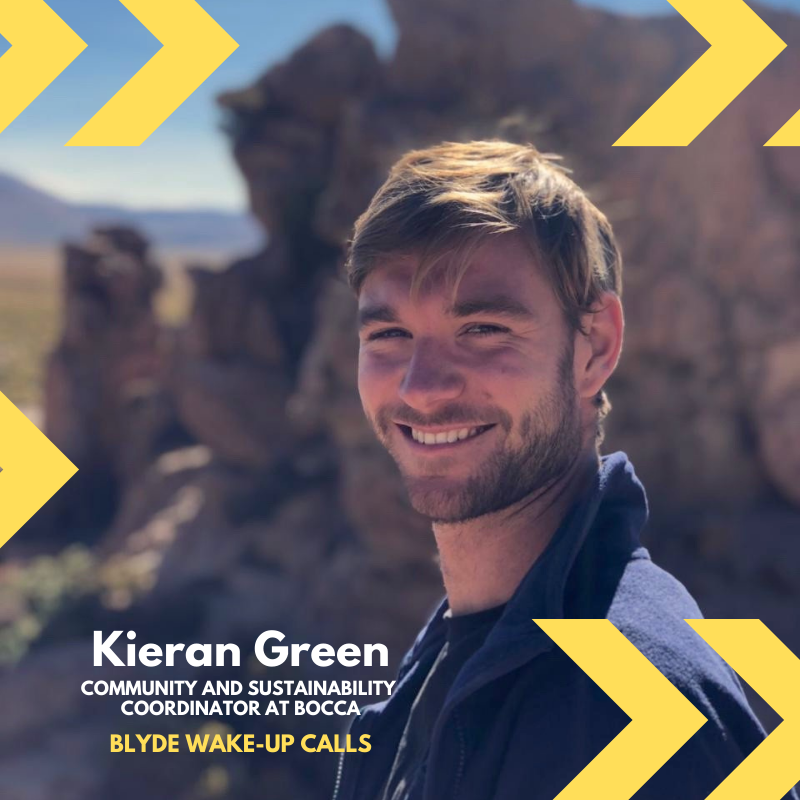 Hungry (or should we say thirsty? ☕) for more Wake-Up Calls? Read the other interviews here!