BLYDE WAKE-UP CALLS
5 BURNING QUESTIONS TO KRISTEL DE GROOT, FOUNDER YOUR SUPER.
The past years have laid bare many truths about our current model of capitalism — the severe income inequality and the belief that improving human lives and taking care of the environment are expendable for better profit margins. The changemakers in the growing Certified B Corporation community are demanding an end to the myth that profits must come at the expense of purpose, and environmental and social care. It's time to wake up, it's time for action.
At Blyde we believe in questioning the status quo. We believe in the power of the collective, in taking a stand and inspiring people by showing what can and must be changed. In the wake-up Calls, Blyde stirs up hunger for positive change. We listen to several B Corp voices who talk about their call to action for companies around the globe today. By letting people from different perspectives and businesses speak, we would like to underline the important role of business in this decade of action. 'On stage' today: changemaker Kristel de Groot, founder of Your Super.
What was your wake-up call for contributing to a better world? 
Michael who is now my fiance, but was my boyfriend at the time, had cancer when he was 24 years old. It changed everything. After chemo he was cancer free, yet feeling anything but healthy. I created these superfood mixes for him and put him on a detox. The change in energy, build of immunity and his overall health were incredible. I realized then that 9 out of 10 people don't eat enough fruit and vegetables – and from my own experience superfoods were an easy and natural solution to increase people's daily intake of nutrients! Sharing our experience of superfoods and plant-based eating is what gets us out of bed in the morning. 
What is your call to action for companies around the globe?
To build a business not just for profit, but to have a positive impact at the same time! Building a huge business doesn't have to be a bad thing, we just need to be aware that you can also grow a business  while having a massive positive impact on the lives of your customers, the people who create/grow your product, your employees and all other stakeholders involved. Be clear on your WHY – it will make you more fulfilled, plus everyone else as well. 
The Sustainable Development Goals might be a way for companies to formulate that 'why'. It gives them direction to make an impact and achieve a sustainable future for all. Which of these goals calls you most and why?
Zero Hunger. It's crazy to me that we actually grow enough food worldwide, but due to food waste and feeding it to the animals for meat consumption, people including children are still starving and dying from hunger. The solutions are out there – let's solve this problem together. We have teamed up with Action Against Hunger the past years to support severely malnourished children with life-saving food bars, but we need take it a step further to empower communities to grow food by themselves for nourishment as well as  income. With Action Against Hunger we are also part of a mushroom project to empower communities to become self-sustainable. 
You are already doing a lot right now. Let's fast forward to 2030. What are your biggest dreams, wishes and/or plans for the future?
Building a company that has an impact on over 50 million people to eat more plants and supports them to improve their health through a wide variety of food products. Besides, we want to support thousands of small farmers economically and build a 100% traceable supply chain so the consumer exactly knows who is growing their food and can always send them  a quick note to thank them. On top of that, as an organization, it would be exciting to support many charities and amplify the change we can create in the world even more.
You are absolutely passionate about using 'business as a force for good'. If you could invite one company to also 'use their business as a force for food' and join the B Corp community, what company would that be?
Amazon. For the obvious reason that if such a massive company and all their stakeholders give "having a positive impact on the world" the same priority as they give to their business growth, the impact would be incredible.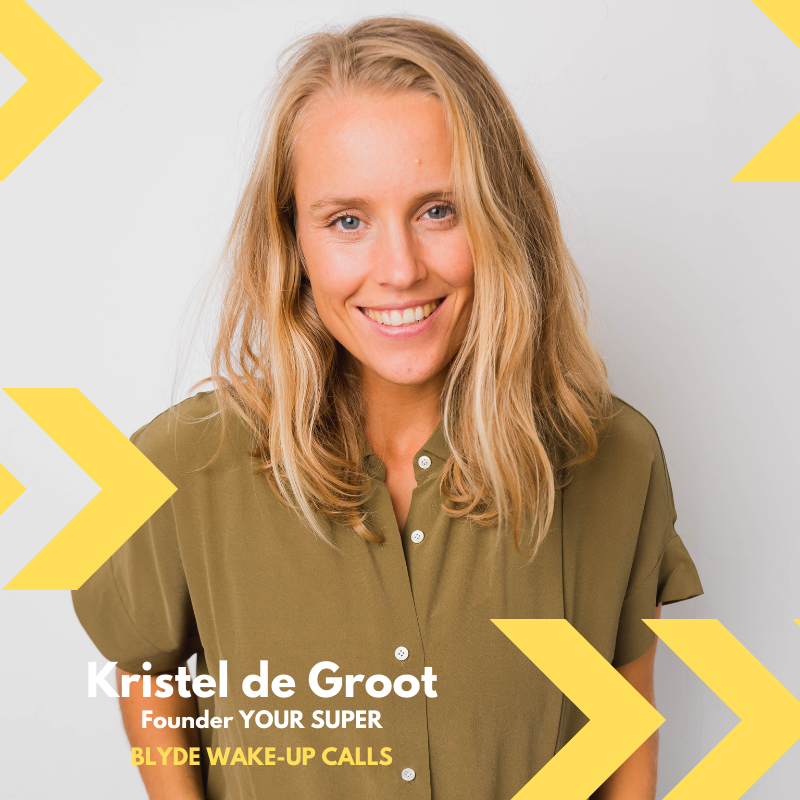 Hungry for more changemaker's stories? Read other Wake-up Calls here.
ps. There's more to come, so stay tuned. Follow us on Instagram!