BLYDE WAKE-UP CALLS
5 BURNING QUESTIONS TO LOTJE KAAK – SOURCING & DEVELOPMENT MANAGER AT FAIRTRADE ORIGINAL
The past years have laid bare many truths about our current model of capitalism — the severe income inequality and the belief that improving human lives and taking care of the environment are expendable for better profit margins. The changemakers in the growing Certified B Corporation community are demanding an end to the myth that profits must come at the expense of purpose, and environmental and social care. It's time to wake up, it's time for action.
At Blyde we believe in questioning the status quo. We believe in the power of the collective, in taking a stand and inspiring people by showing what can and must be changed. In our weekly Wake Up Calls, Blyde stirs up hunger for positive change. We listen to several B Corp voices who talk about their call to action for companies around the globe today. By letting people from different perspectives and businesses speak, we would like to underline the important role of business in this decade of action. 'On stage' today: Lotje Kaak, Sourcing & Development manager at Fairtrade Original.
Ever since Fairtrade Original was founded in 1959, the company has focused on developing fair supply chains with farmers and producers in Africa, Asia and Latin America. What was your personal wake-up call for contributing to a better world?
Growing up in a family in which growing our own food is part of our DNA, I have always had an interest in the way food is produced and distributed. At a later age, when visiting supermarkets, finding new flavours and travelling the world, I became increasingly aware of the footprint of all kinds of products. I realized there is a huge disbalance in the way value is distributed in supply chains and land is being degraded to keep up with consumers' needs. These experiences have guided me in my choices of studies and towards my current job at Fairtrade Original, where it is my ambition to actively make food supply chains more fair and sustainable. 
What is your call to action for companies around the globe?
My call to action for companies around the globe is: take action and responsibility at all levels in your supply chain. This starts with creating more transparency, making more sustainable choices (even if the investments in time or money seem large at the beginning), research how you can increase your impact and dare to be bold. Make the impossible possible one step at a time.  
The Sustainable Development Goals (SDGs) are an important blueprint for taking those steps. Which SDG calls you the most and why?
Personally, goal 1: No Poverty. The fact that people in 2021 still live in poverty and the gap between rich and poor keeps increasing is incomprehensible though undeniable. Workwise I'd also say goal 12: Responsible Consumption and Production, with emphasis on production, as a lot of the other goals fall into this category; responsible use of land and water within production systems, combating climate change, taking responsibility for all actors in your supply chain by creating save working environments and paying a living income. Contributing to these aspects in my role as development manager keeps me motivated!
Call me a changemaker: let's fast-forward a few years. Fairtrade Original in 2030…
…Is a leading company in food retail in Europe when it comes to fully transparent supply chains, with a footprint (next to 😉) zero and a more than living income for all producers, that keeps on innovating, pioneering, and setting the norm for consumers and other companies.
Fairtrade Original has recently become B Corp certified, congratulations! If you could invite another company to join the B Corp community, what company would that be and why? 
I would say a large supermarket like Albert Heijn. Even though they are taking more and more sustainable steps, there is a long way to go and with their reach they can set a great example for other companies as well as consumers to take action.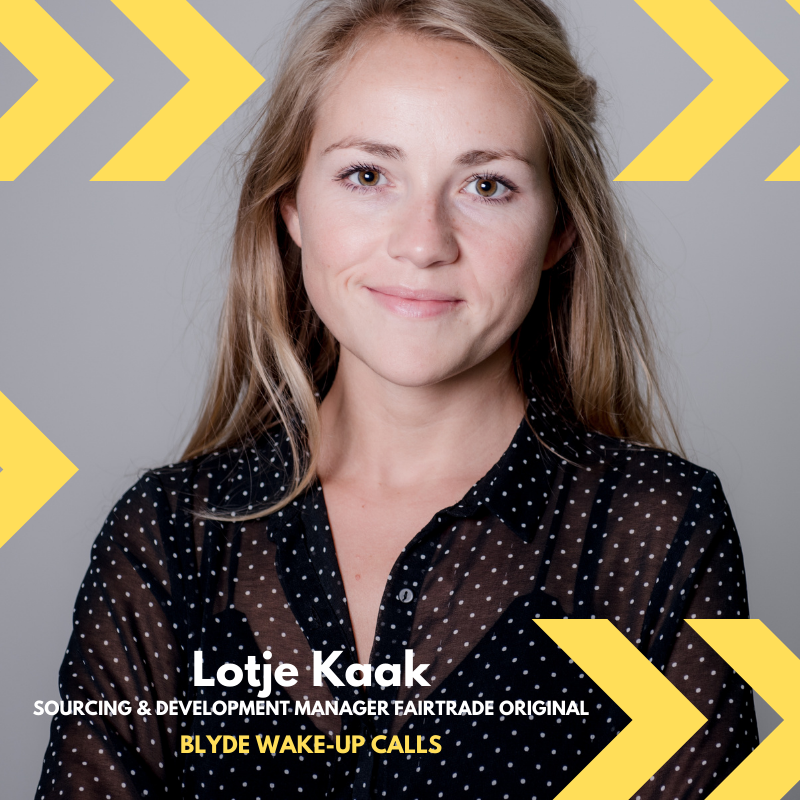 Hungry for more stories of changemakers? Read other Wake-up Calls here.
There's more to come, so stay tuned. Follow us on Instagram!