BLYDE WAKE-UP CALLS
5 BURNING QUESTIONS TO

VEERLE DONDERS – CONCEPT AND BRAND DIRECTOR AT ZOKU 
The past years have laid bare many truths about our current model of capitalism — the severe income inequality and the belief that improving human lives and taking care of the environment are expendable for better profit margins. The changemakers in the growing Certified B Corporation community are demanding an end to the myth that profits must come at the expense of purpose, and environmental and social care. It's time to wake up, it's time for action. 
At Blyde we believe in questioning the status quo. We believe in the power of the collective, in taking a stand and inspiring people by showing what can and must be changed. In our weekly Wake Up Calls, Blyde stirs up hunger for positive change. We listen to several B Corp voices who talk about their call to action for companies around the globe today. By letting people from different perspectives and businesses speak, we would like to underline the important role of business in this decade of action. 'On stage' today: Veerle Donders, Concept and Brand Director at Zoku – a home-office hybrid that offers a place for travelling professionals to quickly get rooted in the city, join inspirational talks and connect with neighbors and locals. 
From a personal perspective, what was your wake-up call for contributing to a better world?   
I have done quite some traveling. During this, I've met some amazing people from all over the globe. I then realized that travel brings people closer to each other and reduces the feeling of "us" vs. "them", as your world becomes bigger and you learn about different cultures. I think the travel industry can literally help make the world more peaceful and less lonely for everyone. I never wanted to work for a company that only wants to make money. I think Zoku is the kind of modern company where we don't only create a smart and lucrative business case, but also manage to work on goals that make the world a slightly better place and create value for our community together.  
So you've seen much of the world! What would you say is your call to action for companies around the globe?  
Loneliness is a growing problem, especially within bigger cities. There are more and more 1-person households and more people that are indicating they are lonely every day. Especially during this pandemic, social distancing literally results in isolation. Severe loneliness is as bad for your health as smoking 15 cigarettes a day. Even though it's a huge problem, it is still much considered a taboo, and people refuse to talk about it. We should keep an eye on our local community and take action to include instead of exclude.   
 Which SDG (Sustainable Development Goal) calls you most and why?  
Number 11, Sustainable Cities & Communities, calls me most as my personal purpose is so closely aligned with that from Zoku. We are constantly thinking of what our future cities need to be more sustainable, and not only in an obvious 'green' way. We also think that smart use of space is important as more people are moving into cities in the coming years (75% by 2050!). Therefore, we created hybrid spaces – spaces that work multifunctional and 24/7 – like our Zoku Lofts, which are used as offices during the day and for sleeping during the night. This instead of spaces like offices which are only used during weekdays while evenings and weekends they're left empty. Aside from using the scarce square meters in inner city areas better, we also believe in working together with your local community to create more inclusive spaces for people to be able to come to and effortlessly connect to others. Our Social Spaces are a testament to that. At Zoku, people from the local neighbourhood as well as our residents are easily connected by our team of Sidekicks and our Community Manager, or by attending one of our many events.   
Let's fast forward to 2030. What do you envision for Zoku by then? 
Our mission has always been to become the ultimate homebase where global nomads and ideas can connect and grow. We would like to become an example B Corp for inclusion, connecting people and defying loneliness. Everything we do at Zoku is geared towards making this difference and it gives the team such a purpose! 
Zoku has become B Corp certified in September 2018. If you could invite one company to join the B Corp community, what company would that be and why?   
Great question! I think it would be a company that still has to make changes to be able to join. That way, we can really make a change! In terms of impact, a big private equity investment company like Blackstone would be a good fit, as this would mean that they must change their entire investment strategy towards investing in companies like other B Corps and sustainable businesses. With an investment budget like theirs, we could really do some good in this world!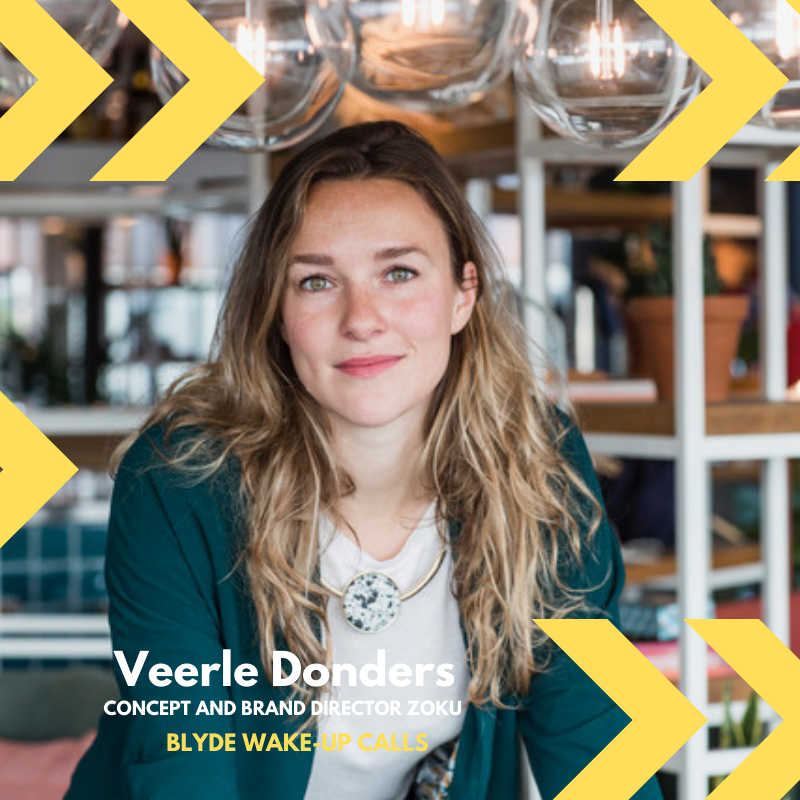 Hungry for more changemaker's stories? Read other Wake-up Calls here.
ps. There's more to come, so stay tuned. Follow us on Instagram!