BLYDE WAKE-UP CALLS
5 BURNING QUESTIONS TO LISELOT JANSEN,
CREATIVE DIRECTOR AT
COALAFIED
The past years have laid bare many truths about our current model of capitalism — the severe income inequality and the belief that improving human lives and taking care of the environment are expendable for better profit margins. The changemakers in the growing Certified B Corporation community are demanding an end to the myth that profits must come at the expense of purpose, and environmental and social care. It's time to wake up, it's time for action.
At Blyde we believe in questioning the status quo. We believe in the power of the collective, in taking a stand and inspiring people by showing what can and must be changed. In our Wake Up Calls, Blyde stirs up hunger for positive change. We listen to several B Corp voices who talk about their call to action for companies around the globe today. By letting people from different perspectives and businesses speak, we would like to underline the important role of business in this decade of action. 'On stage' today: changemaker Liselot Jansen, creative director at Coalafied.
Coalafied has been a purpose-driven company from its start. What was your wake-up call for contributing to a better world?
Koos de Koala is the idea of ​​the sustainable start-up Coalafied. We introduced 'Koos' as the new and green kids character in the Netherlands on November 11, 2020 to introduce children to major nature and climate themes, all in a playful and colourful way. Both Koos and Coalafied arose after a trip to Australia where my friends and I were confronted with nature that was severely affected by climate change. Bushfires, deforestation, rising ocean temperatures, and mass coral bleaching – that had to change. Now I have been working with a committed team for about 2 to 3 years to further develop Koos de Koala and Coalafied. Recently, Coalafied has achieved pending B Corp status. 
What is your call to action for companies around the globe?
We strive for a sustainable and green earth that we can pass on to the next generations together. An earth without environmental pollution and animal suffering, but with a circular economy where overproduction and residual waste no longer occur. We are convinced that together we can make that change, if we are all committed and work together.
Which SDG (Sustainable Development Goal) calls you most and why?
Number 12 – "Ensure sustainable consumption and production patterns" calls me most. Why? Because without taking the time to reduce our daily, weekly and yearly carbon footprints, global warming will continue. Humanity is simply demanding more from the earth than it can provide. Reducing humanity's carbon footprint is the most essential step we can take to end taking more than the earth can provide, to live within the means of our planet.
Call me a changemaker – your company in 2030…(biggest dreams, wishes, plans?) 
By 2025, we want one million children in the Netherlands (70% of children between 0 and 10 years old) to be inspired by Koos de Koala to take good care of our planet. By 2030, we want Koos to have left his footprint throughout Europe and that all kids and families have embraced Koos into their lives. In addition, we want climate education to be provided at 100% of all primary schools.
If you could invite one company to join the B Corp community, what company would that be and why? 
If the major players (and also polluters) in online department stores such as Zalando, Amazon and bol.com were more consciously committed to the climate, this could have a huge impact and will set a good example.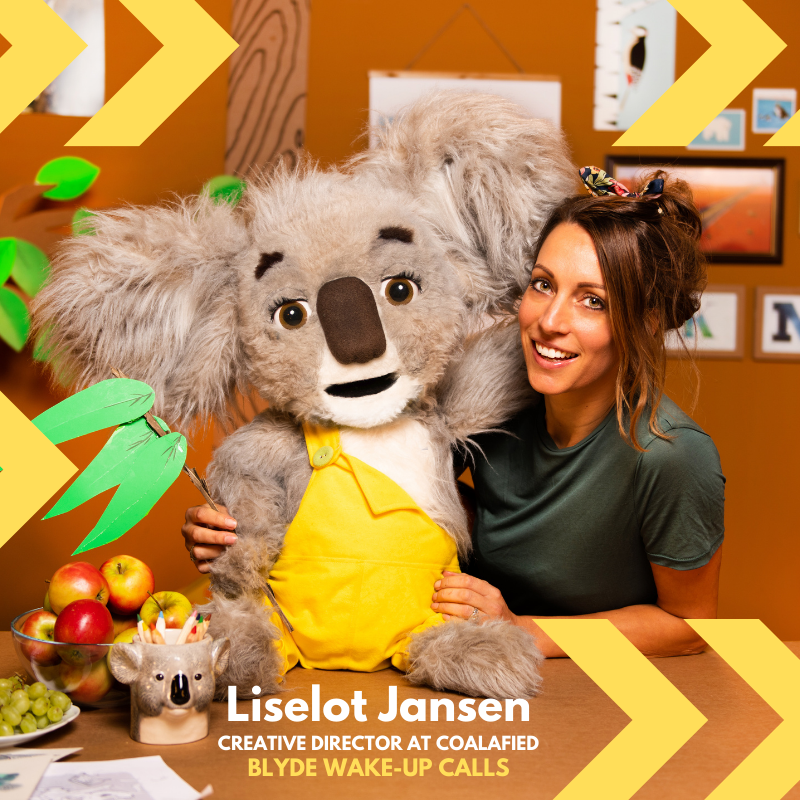 Hungry for more wake-up calls? Read the other interviews here!