BLYDE WAKE-UP CALLS
5 BURNING QUESTIONS FOR MARTIJN CANTERS, COMMERCIAL MANAGER AT OMA'S SOEP
The past years have laid bare many truths about our current model of capitalism — the severe income inequality and the belief that improving human lives and taking care of the environment are expendable for better profit margins. The changemakers in the growing Certified B Corporation community are demanding an end to the myth that profits must come at the expense of purpose, and environmental and social care. It's time to wake up, it's time for action.
At Blyde we believe in questioning the status quo. We believe in the power of the collective, in taking a stance and inspiring people by showing what can and must be changed. In our Wake Up Calls, Blyde stirs up hunger for positive change. We listen to several B Corp voices who talk about their call to action for companies around the globe today. By letting people from different perspectives and businesses speak, we would like to underline the important role of business in this decade of action. 'On stage' today: changemaker Martijn Canters, commercial manager at Oma's Soep.
What was your wake-up call for contributing to a better world?
Through a friend that studied medicine, we learned that many seniors in the Netherlands feel lonely. This is for instance reflected in their frequent doctor visits, as they often will go there only to have a nice chat, not because of a physical inconvenience. We found out that loneliness among the elderly is a huge problem and it is only getting bigger. Almost half of the seniors in the Netherlands (around 1.4 million) feels lonely regularly. During the next 20 years the number of elderly will double in the Netherlands. At the same time, the grandmother of my business partner – Max – always makes the most delicious soups. She was the inspiration behind our initiative. Max came up with a plan to organize soup cooking days with the young and elderly together to prevent loneliness.
What is your call to action for companies around the globe?
Together we can fight loneliness. With the proceeds from the sales of our fresh soups and meals, we can make elderly people happy. I hope this inspired other companies around the globe, as well as individuals, to give some extra attention to the seniors themselves.
Which SDG (Sustainable Development Goal) calls you most and why?
Our main focus is to fight loneliness among elderly. Accordingly, SDG number 3 calls us the most: To ensure healthy lives and promote well-being for all, at all ages. Loneliness can cause higher risks for a variety of physical and mental conditions. A serious topic that is too often overlooked.
Call me a changemaker – your company in 2030…(biggest dreams, wishes, plans?)
My wish for 2030 is that Oma's Soep will be the best-known brand for delicious and fresh soups and meals based on grandma's original recipe. By using our proceeds for social impact, Oma's Soep will be the biggest loneliness fighter and we will celebrate the lives of all elderly people in the country.
If you could invite one company to join the B Corp community, what company would that be and why?
I would invite two great initiatives that already make a positive impact to join the B Corp community. The first one is Welcome app! Welcome app's mission is to make sure all newcomers (refugees) feel at home in their new countries. They aim to do this by giving back ownership over their integration process through a comprehensive online platform. The second company I would like to invite is the KUGI Company. Driven by the purpose of creating honest alcohol for a healthier planet, KUGI is putting the most sustainable and responsible drinks on the map in Europe, made with fresh and organic juices.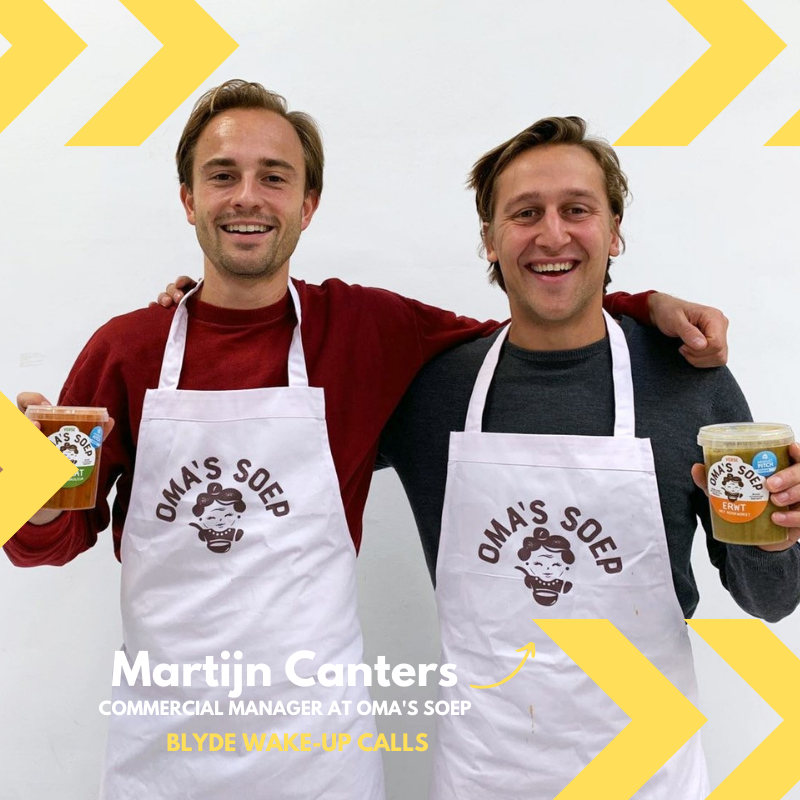 Hungry for more wake-up calls? Read the other interviews here!