BLYDE WAKE-UP CALLS
5 BURNING QUESTIONS TO KOEN KROMMENHOEK, IMPACT STRATEGIST AT RAINBOW COLLECTION
The past years have laid bare many truths about our current model of capitalism — the severe income inequality and the belief that human lives and environmental impact are expendable for better profit margins. The changemakers in the growing Certified B Corporation community are demanding an end to the myth that profits must come at the expense of purpose, and environmental and social care. It's time to wake up, it's time for action. 
At Blyde, we question the status quo. We believe in the power of the collective, in taking a stand and inspiring people by showing what can and must be changed. In the Wake-Up Calls, Blyde stirs up hunger for positive change. We listen to several B Corp voices who talk about their call to action for companies around the globe today. By letting people from different perspectives and business speak, we would like to underline the important role of business in this decade of action. 'On stage' now: Koen Krommenhoek, impact strategist at Rainbow Collection. 
What was your wake-up call for contributing to a better world?
My urge to contribute to a better world has grown over the years. Growing up near the ocean and working on circulair projects gave me the ingredients to put the world into perspective. Becoming part of Rainbow Collection allowed me to not only guide companies through that process of gaining perspective, but specifically support the people working in those companies to find their path towards making positive impact. What matters most? What can you do within your daily work & life? Where to start? With the right mindset, strategy and tools everybody can contribute in their own way, without lowering standards. And in my opinion that's exactly what we need – to unlock every single person's impact potential.
What is your call to action for companies around the globe?
Every company and every person can make a difference – they just need to look for their own way. That's why I don't talk about the WHY anymore, but focus on the HOW.
Focus = impact. Look at those areas where you as a business can make the biggest difference. You don't have to reinvent the wheel. Start with your core product or service – what opportunities do you have to make this more sustainable?
You're not alone. With the right stakeholder engagement you can create a powerful impactful platform, which is much more sustainable (and therefore profitable) longterm.
Making impact should be fun. Don't make it too complicated. Make sure you have a good strategic framework in place, involve the right people, and see what happens in the organisation.
Which SDG (Sustainable Development Goal) calls you most and why?
That would be Partnership for the Goals – 17. As an Impact Agency we work with all of the Sustainable Development Goals. Together with our clients and partners we look for the perfect SDG match and create the biggest possible impact in that specific area. This means it is in our DNA to work together and exchange knowledge for the best results.
Call me a changemaker – your company in 2030…(biggest dreams, wishes, plans?)
This is the decade of change. By 2030 we should have reached the SDG's together. Therefore, I would be proud if our 'market transformation' approach has become the new standard and that we use our brand platform to share knowledge about this around the globe. This market transformation approach focuses on supporting companies to find their impact business model and together with all actors in their supply chain – upstream and downstream – change the way the sector works. Only with this systemic sustainability approach can we really realise the SDGs. So, by 2030 I will only be working on transforming old markets and helping new businesses to reach the highest (sustainable) standards from day one.
If you could invite one company to join the B Corp community, what company would that be and why?
I would love to see the big 'greenwashers' taking their best shot at completing the assessment, with a solid Impact Business Model score of course. Let's say this is an open invitation to all of those who are questioning if they are 'doing the right thing'.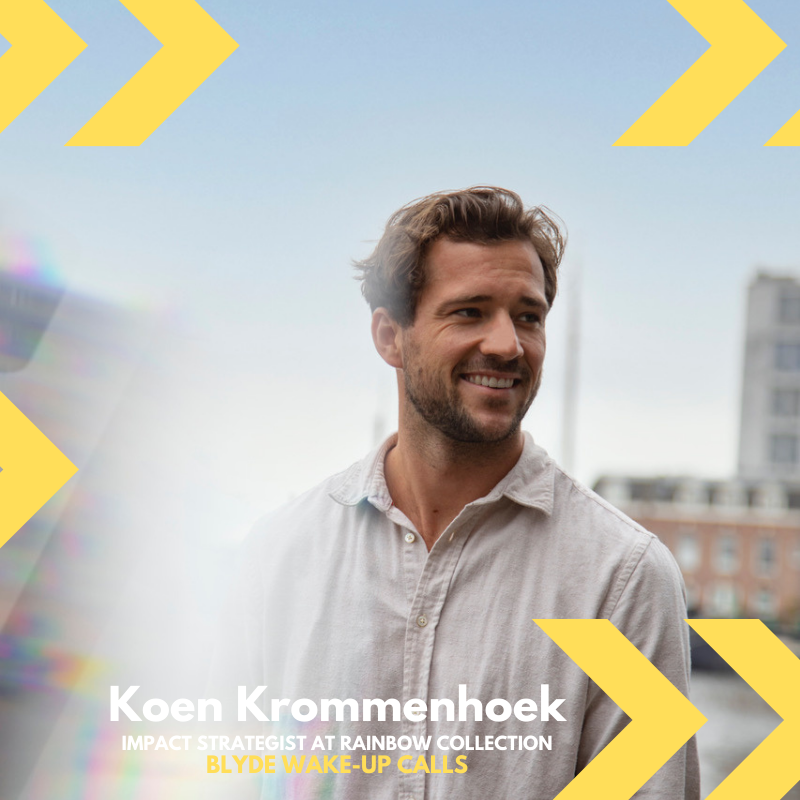 Photo: Koen Krommenhoek, impact strategist at Rainbow Collection. Made by Tom Baas.