B Lab EU: Hi! Tell us briefly who you are and what your company does.
Blyde: Blyde is a Benelux PR-agency for sustainable brands and social enterprises. By creating and sharing meaningful stories we inspire consumers to make a positive change. We help and activate brands & companies to 'write' impactful storylines: rule breaking, never faking and change making. We're a strategic and creative partner in PR with a mission to create a positive footprint worldwide. A dedicated team, willing to go above and beyond to reach the right audience via journalists, influencers, opinion leaders for impactful stories. Experienced in working with multinationals, start-ups and scale-ups. Convinced of the power of organisations to make a positive change.
B Lab EU: Why did you decide to become a B Corp?
Blyde: We believe businesses have an important share in creating positive impact and change. Success should be measured in social and environmental value, instead of merely financial performance. The B Corp movement embodies our values and with the B Corp certification we are practicing what we preach: creating a positive footprint worldwide.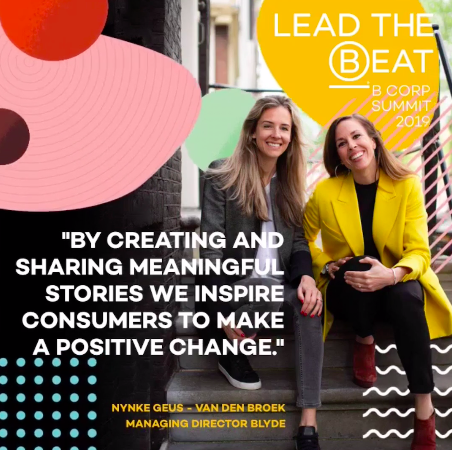 B Lab EU: What does being a B Corp mean to you?
Blyde: Being a B Corp gives us the confirmation that we are moving into the right direction, judged by a rigorous third-party standard for responsible business. We are very proud to be part of a community of companies with inspiring and forward-thinking visions – it gives us even more energy to keep up the good work and step up our game. Because of the shared knowledge and network, we'll be able to do so.
B Lab EU: Have you seen business benefits of being a B Corp?
Blyde: Yes, we definitely do. More and more companies are looking at other companies' values before they start to work together. Being an official B Corp immediately highlights a certain standard and set of values that is noticed by potential new clients, like attracts like. Since our certification this year we have been in touch with at least 6 other B Corps about their PR-strategies.
B Lab EU: What are you looking forward to most about the 2019 Summit?
Blyde: We are excited to get to know like-minded people and organisations, sharing the same values. Last year's summit was incredibly inspiring and gave us the final push towards acquiring certification and becoming part of the inspiring community of B Corps.
Bly Lab EU: What are your plans for the future to use your business as a force for good?
Blyde: Next to our core business we are organising several 'do good' events: A sustainable Christmas event (we are adopting Christmas trees for all our clients and partners); a third 'Food for Thought' event where we create a stage for new and established social enterprises to share their stories. We're also introducing a '1% model' for clients, meaning that once they work with us 1% of the total budget spent is to be donated to a charity. And we are planning an impact trip with our team to help the refugees in Greece in collaboration with The Present Movement.
B Lab EU: Thank you and look forward to seeing you at the Summit!